KMS Mosque
KMS rented a house to be a mosque for our prayers and meetings. The coast of Mosque rent is covered mainly by the donations of KMS members and some funds from the Islamic Center of Japan (ICJ). It contains Halah foods for Muslims and sometimes non-Muslims.
Below is the address of the Mosque and its location map: (The location map was prepared by Br. Edi).
Dai 2 Eikouso No.2 (first floor)
1-22-20,
Mitsukuchi Shinmachi,
Kanazawa City, Ishikawa
Tel/Fax: 076-261-9465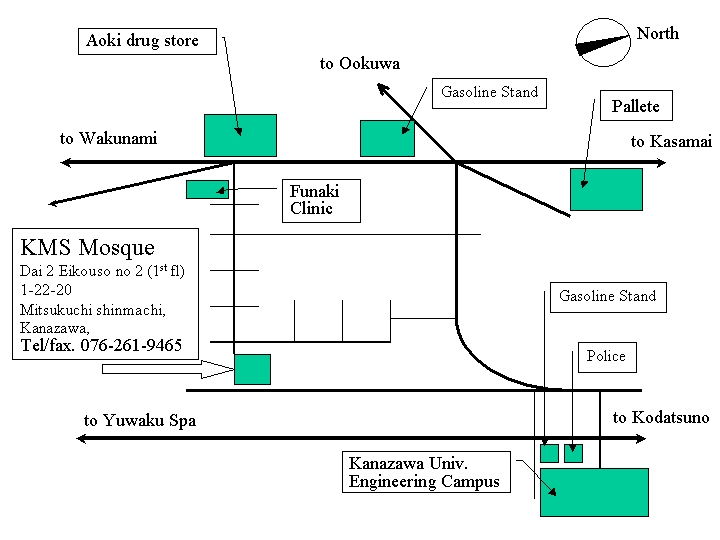 KMS Mosque has different kinds of Halal foods with a best price relative to Non-Halal ones in outside. Following is a list of the available Halal foods in KMS Mosque:
A)-Meat and Chicken:
Fresh Chicken with bone and boneless
Chicken sausage
Chicken berger
Fresh beef meat (boneless)
Fresh beef shank
Fresh beef mince
Fresh beef liver
Mutton boneless
Mutton with bone
Mutton mince
B)- Others:
White beans (with and without black eyed)
Brown lentil
Yellow and pink lentil
Buttur oil
Dates
Miscellanious
Most of the above mentioned products are ordered from Islamic shop stores at Tokyo.
Home